Maine Sweet and Wild Store
Welcome to our Online Store! Here you can order frozen Wild Maine Blueberries and Wild Blueberry Fruit Spread from the convenience of your computer. We currently offer frozen blueberry orders in 5lb increments up to 30 lbs. These prices include priority overnight shipping which is necessary to ensure the blueberries stay frozen. If you are able to pickup the delivery in person, please order by phone. If you wish to order more than 30 lbs or the shipping destination is outside the 48 contiguous states please contact us by phone so we can make the appropriate arrangements.
Online orders of the Wild Blueberry Fruit Spread is only being offered in cases of 4 jars. The price for the spread includes shipping cost, please allow 2-3 days for shipping. For larger orders, please contact us by
phone
.
IMPORTANT: Be sure to provide an email and/or phone number where you can be reached so we can arrange a date and time for the delivery that is convenient for you.
Frozen Blueberries
Continental United States Only
Amount
5Lb Boxes
Price
Shipping
Total
5 Lbs
1
$18.00
$87.66
$105.66
10 Lbs
2
$36.00
$95.46
$131.46
15 Lbs
3
$54.00
$113.28
$167.28
20 Lbs
4
$72.00
$122.70
$194.70
25 Lbs
5
$90.00
$133.24
$223.24
30 Lbs
6
$108.00
$149.87
$257.87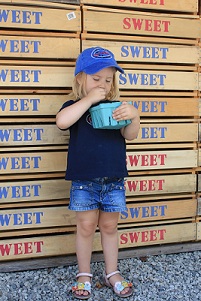 Only the Best for our Customers
High-quality blueberries require high-quality packaging to maintain the appropriate temperature and condition of the blueberries. We use Styrofoam lined boxes specifically designed for transporting frozen perishables. We also use special gel packs to ensure the temperature stays cool enough during the short transportation period.
We Stand Behind Our Blueberries From Order to Delivery
We are only satisfied when the customer is satisfied. You will only have to deal with us throughout the entire buying process. You do not need to worry about calling shipping companies or filling out claims if your blueberries arrive damaged. Simply call us and we will take care of any problems and make sure you get your blueberries. If your shipment arrives damaged we will replace the damaged boxes of blueberries at no extra charge.
Transporting the Blueberries
Since the blueberries must remain frozen at all times, it is necessary that we get the blueberries to you as fast as possible. To ensure this happens, all orders are shipped next-day air only.